Developing Solutions for Stranded Rural India and Impacting at Scale
After climbing a great hill, one only finds that there are many more hills to climb.


- Nelson Mandela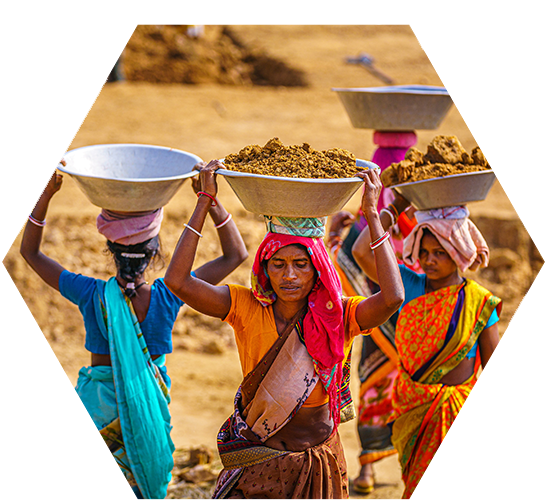 TRIF STRATEGY 2025
Our new direction is designed to respond by being more effective, efficacious and transformative to the emergent crisis and one particularly faced by the more vulnerable. It reflects on challenges of our times, success and failures of TRIF, learning, insights gathered and sets us on a path to bring lasting impact to communities we serve, unstrand the stranded villages of India.
Last year, along with intensifying development interventions in rural India, we at TRIF, reflected on our journey since 2016. Julia Lowe and Fiona Walsh (Independent consultants based in Seattle) completed our Quinquennial Institutional Review, drawing feedback and guidance from all our stakeholders on our capacities, limitations, space and positioning. Their feedback along with our own analysis has strengthened our vision to leverage new opportunities and adapt to changes in the unfolding landscape for development action in India.
In the last five years, our efforts have emerged as one of the largest formal multi-partner initiatives on integrated village development. We have built strong alliances with 21 leading Civil Society Organizations in health & nutrition, education, livelihoods, governance. We have also forged partnerships with NRLM, SRLM, Mission Antyodaya and the Aspirational Districts Programme. This platform has enabled us to galvanize action for a larger impact. Our community action pilots, bolstered by our public system engagements, have developed protocols and standard operating procedures for scaling up community-led multi-thematic development efforts. In our next phase, TRIF will be deeply focused on critical challenges/issues of the marginalized communities and in particular of women in the bottom 100,000 villages of India ("stranded India"). The value TRIF will bring will be its deep knowledge and an inventory of working "solutions" for "stranded" India and mechanism for scaling-up those "solutions". Another differentiator will be our focus on the rural urban continuum for these poor families in context of continuing migration in search of better opportunities.
Our Interventions in Rajpur
Transform Rural India: Making Our Villages Places of Vibrant Opportunities